Real economy firms given sector-specific transition plan guidance
Transition Plan Taskforce issues draft guidelines for Electric Utilities & Power Generators, Food & Beverage, Metals & Mining, Oil & Gas and Finance.
The Transition Plan Taskforce (TPT) has published draft guidance to help companies in utilities, food & beverage, metals & mining, oil & gas and finance create 'gold standard' climate plans.
The body, set up last year to advise the UK Government on upcoming disclosure laws, is now calling for feedback on the seven documents, which are meant to build on its sector-agnostic disclosure framework, released last month.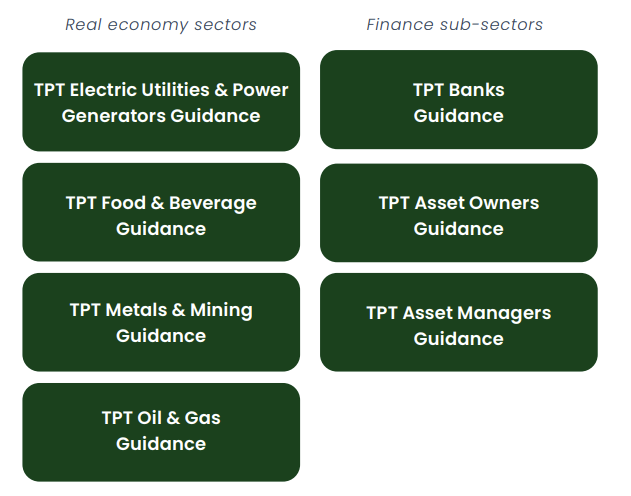 The guidelines are aimed at companies that may need additional context to help them interpret that guidance.
"The Disclosure Framework provides the basis for companies to set out credible and robust transition plans as part of annual reporting on forward business strategy," said TPT in a statement today. "A company's transition plan should take a strategic and rounded approach that explains how it will meet climate targets, manage climate-related risks, and contribute to achieving net zero."
The guidance, which is out for feedback until December 29, is expected to underpin updates to the Financial Conduct Authority's climate disclosure rules for listed companies in the UK. It's also likely to become a reference point for other jurisdictions that are introducing laws based on transition plans, such as Switzerland.
"We call on companies to read the relevant drafts and tell us what more they need from the final guidance to help them achieve success," said Kate Levick, co-head of the TPT and associate director of sustainable finance at UK-based think tank E3G.
Climate Bonds Initiative also weighs in on transition planning
The launch comes just days after the Climate Bonds Initiative (CBI) announced two initiatives to help strengthen the comparability and credibility of corporate transition plans.
The non-profit body, which has been central to building the green bond market over the past decade, has mapped all existing climate transition frameworks – the "proliferation" of which it said was "causing confusion in the market".
The mapping exercise highlighted "consensus on the core principles for setting authentic targets, devising actionable strategies, and ensuring robust accountability" across the different frameworks, CBI said, but noted "differences in how those principles are interpreted".
It plans to release a tool to help users navigate the landscape in January.
In addition, CBI is developing a source of information about how mature and credible corporate climate strategies are.
Starting with the cement and steel sectors, the 'transition plan monitor' will house information about how individual companies are approaching each aspect of their transition plans, in a bid to help investors and companies compare decarbonisation strategies among peers.
"We're going to look at the entire transition plan, from the bottom up, starting with governance structures and reporting frameworks, then assessing decarbonisation targets against our specific pathways, and assessing the implementation," explained Matthew Macgeoch, a senior research analyst for CBI.
"We'll track the maturity level of various decarbonisation levers in each sector," he continued.
"So, for example, we might look at the public information available about how a particular steel company is investing in electric appliances and whether those assets are operational yet. That will help us to say whether a company is where they should be."
CBI is looking for representatives from non-financial corporate issuers to join a working group alongside those from finance and the third-sector, "to help make sure that this is operationally and philosophically sound and ready to launch in the first half of next year," Macgeoch told REP.